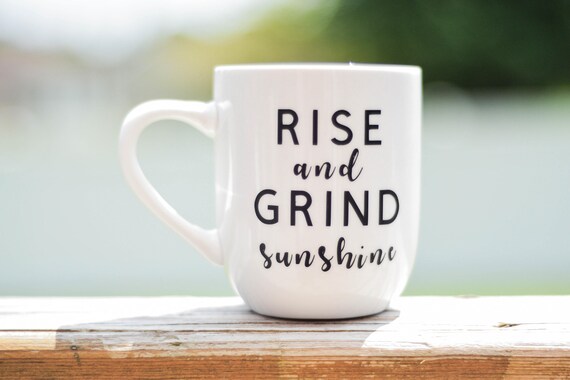 Here are some of my favorite ways to have a productive day by starting the day with the right habits. I feel the way I start my morning sets the tone for the rest of my day. I can either start my day by hitting the snooze button, rolling out of of bed at the last minute, rushing to get ready and then running out the door with an apple in my hand wearing my pink backpack. Or, I can start my day with good morning habits. Decisions, decisions… I'm more inclined to stick with the latter. Below you'll find the morning habits I implemented in my life over the years.
1. Wake up early
"Early to bed and early to rise, makes a man healthy, wealthy, and wise".  ― Benjamin Franklin
Surely I know time is a valuable asset. A number of people say time is money, and while I agree to a certain degree, unlike money, you can't get more time. I can spend $20 and eventually make $20 again. However, if I spend 20 minutes on something, I won't be able to get 20 minutes back no matter what I do. Currently, I wake up at around 6:00 am even though my alarm is set at 7:00 am. I want to get down to at least 5:15 am, and one of my influences Eric Thomas says he consistently gets up at 3:00 am. For some people that would be a death sentence, but considering what his career entails it makes sense. The world is a quieter place when the sun hasn't risen yet and waking up early allows me to practice the habits explained below, which in turn help me start the day in high spirits, ready to tackle anything that life throws at me throughout the day.
2. Plan the daily goals
I think the quote on my Rock Clock app says it best, "Wake up determined, go to bed satisfied". I believe it's very important to plan out my day. If I don't take a few minutes of my time to map out the direction of my day, how will I know I'm heading towards the right direction? It doesn't have to be a totally rigid schedule, but a tentative schedule with time blocks to accomplish certain tasks seems to work best for me. When I have a plan for my day, it helps me get started on my goals and priorities immediately and helps make my day more manageable.
3. Smile and think something positive
Right before I brush my teeth in the morning, I smile. Usually the first thing that comes to my mind is my niece which is followed by the thought "I'm so glad I and everyone I love made it to see another day". Smiling does the following…
Smiling releases neurotransmitters called dopamine and endorphins. Endorphins are responsible for making us feel happy, and they also help lower stress levels. Dopamine is also known as the "motivation molecule". It is responsible for intrinsic motivation and provides the motivational/internal drive to do things.
In addition, smiling boots your immune system. Your body is more relaxed when you smile, which helps contribute to good health and a stronger immune system.
According to some more reading I did, even a fake smile has benefits. I don't usually have trouble smiling 'cause I honestly believe I have a lot to be happy about, but if I ever have trouble smiling in the morning it's nice to know I can force myself to.
Lastly, I ask myself these two questions:
What am I looking forward to today?
How am I going to support my friends today?
4. Jot down something in my gratitude journal
The Rock Clock app has another quote I like, "Over the years I've realized one of the most important things to being happy… is being grateful". Dang it, why is The Rock so awesome!? Anyway, he is right. One of the key ingredients to my happiness is about appreciating the things that I already have. By enumerating the blessings I have in my life right now, I was able to become more open to optimism and inspiration and improve my outlook in life. Everyday, I write down at least one thing that I'm thankful for. It's important to count the small victories.
5. Brush my teeth
I was someone who used to brush their teeth after I had breakfast. However, I realized it was healthier and better to brush my teeth as soon as I wake up. Plaque builds up in your mouth while you sleep and since I wear a retainer when I'm sleeping and am more prone to getting calculus/tartar,  I should remove the bacteria buildup once I'm on my feet by brushing my teeth.
6. Pray & Meditate 
Starting my day off with calmness and stillness helps keep me relaxed. My prayers and meditation sessions are not usually long, but just a few minutes every day allows me to connect my mind, body, and soul in preparation for the day that's ahead.
7. Make my bed 
"No one's going to see it" and "It's going to get unmade by tonight so what's the point?" were usually the two statements I would say when I didn't want to make my bed. As a child, I never understood why my mom wanted me to make my bed. Now that I'm older, I know excuses are easy to make, but then again, so is making my bed. A fluff of the pillows and tug of the sheets and comforter literally takes seconds, and is the easiest way to make my entire dorm room look better instantaneously. It's a small accomplishment and gets my day started off right when I head out the door.
Naval Seal Admiral William H. McRaven said the following about making your bed at the University of Texas in his commencement speech…
"If you make your bed every morning you will have accomplished the first task of the day. It will give you a small sense of pride, and it will encourage you to do another task and another and another. By the end of the day, that one task completed will have turned into many tasks completed. Making your bed will also reinforce the fact that little things in life matter. If you can't do the little things right, you will never do the big things right.

And, if by chance you have a miserable day, you will come home to a bed that is made — that you made — and a made bed gives you encouragement that tomorrow will be better.

If you want to change the world, start off by making your bed".
Below is a pic of what my bed looks like when it's made if you're interested.
Pay no attention to the Love Live Nesoberi plushes.
8. Fuel my body with an awesmazing breakfast
Having a healthy breakfast can help keep me feeling energized. You know the adage "breakfast is the most important meal of the day"? It's an adage because it rings true, it's even better since I know how to cook. I can avoid excessive sugar in the morning and have some food that will give me more energy, and help me with my focus and concentration. Focus and concentration are exactly what I need in order to get through my classes!
9. Create something
Before I read my e-mails or news articles from The New York Times or Washington Post, go to my class, and anything else I do once I leave my dorm room, I make sure to create something. Whether it's writing a post for my blog, drawing a quick sketch, producing a musical beat, making a poem, or writing a scene for my play, I make sure to jumpstart my creativity.
These are some of the things I do to set myself up for a successful, extremely productive day. Thanks to doing them regularly, I'm able to tackle each day proactively, stay productive, and more regularly say, "Today was a good day" just like Ice Cube.